How to cope during this challenging time in aviation…a must-read!
In this new blog article, Capt. Pierre Wannaz is highlighting a great book from Capt. De Crespigny that content applies to the workplace and everyday life.
By Capt. Pierre Wannaz - May 05, 2020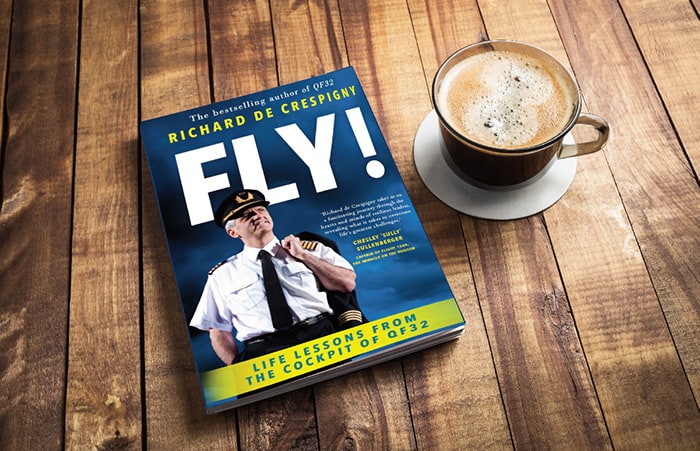 #Crisis #Pilot #Aviation
When The Winds Of Change Blow, Some People Build Walls, Others Build Windmills
Shortly before Christmas, my cousin from Sydney (a former Qantas employee) brought me the book "FLY!" directly from Australia as it was difficult to find it here in Europe. Despite the will to read it, it disappeared initially in a pile of books that I intended to read at some time.
Being almost grounded (having about two flights a month), I finally had time for reading "FLY!" Initially, I was a little skeptical about what else could be said and explained after having already read "QF32" from the same author.
After a few pages…what a positive surprise! The book is full of valuable content. This is the reason why I decided to write a small article to encourage all pilots, especially actual and future captains, to read it. This book is a great source of information and inspiration about subjects such as leadership, resilience, teamwork …
Most pilots are usually lifelong learners with a constant desire to improve themselves and the quality of their work. Having a different source of information than their company-specific manuals is, in any case, an enrichment. Information found in "FLY!" is of great value, as today most pilots are confronted with a very demanding and challenging situation, depending on circumstances and decisions that are lying outside their direct sphere of influence.
In "Fly!", Richard de Crespigny shares the insights and techniques he built up over decades in the high-pressure world of military and civilian aviation. Covering leadership, teamwork, risk-assessment, decision-making, crisis management, lifelong resilience, and more; it's a book whose wisdom can be applied to challenges and opportunities in the workplace as well as to life. Including exclusive insights from fellow hero pilot Sully Sullenberger, astronaut Neil Armstrong, NASA's Gene Kranz, and others who have, like Richard de Crespigny, succeeded under intense pressure, "Fly!" will enable everybody to perform at their best and to succeed in any situation." https://www.penguin.com.au/books/fly-9780670078738
He explains in detail most aspects of resilience – what it demands, what factors are contributing to a resilient operation. It goes beyond the regular cockpit environment by talking about the resilience that is necessary to exist and to successfully cope with unexpected and difficult situations of life – like the one affecting the majority of airline employees today.
So many subjects are detailed in "Fly!" such as:
Source: https://www.thegrowthfaculty.com/blog/GREATIDEASFlybyRicharddeCrespigny
Accepting your situation: Then create time. Time gives you options.
Taking the glass half full approach: During Apollo 13, flight director Gene Krantz said: "Gentlemen, stop wondering about what's broken, and let's concentrate on what's working."
 Ego as the enemy to teamwork: If the goal is safety, anyone in that team should be able to say stop.
 Having a shared mental model: I have a mental model in my brain, and if I share that, then we share all our combined intelligence like the Borg on Star Trek.  If you go autocratic and follow only your own mental model, then you leave everyone behind and you damage the resilience.
 "QF32" was a story of team resilience… It's not a person, it was the team, and their decision-making process, and the decision to put the safety of passengers above ego.
 Thrusting people: The cabin service manager was doing his job in the cabin. I trusted him to do his job as he trusted me to do my job. They left us alone. In a crisis, when you have teams, you defer to their experience. You don't micromanage.
 A win is a team win, and a loss is always the leader's fault. The leader is responsible for building up the culture. The culture is what people do when no one is watching.
 The culture must be a Just Culture, where honest human errors are forgiven, and where people even report their own errors so the system can learn.
 Caring for the staff: So they know the mission, the whys, the values, and the brand, and know they're supported by their leader, they will take risks for their organization. That's what we have in aviation. That's what we can apply in our personal and corporate lives.
For me, the most important came from real-life experience and not only from a "psychology" book. All these concepts have been accomplished in one of the most demanding situations and thereafter, debriefed and analyzed in detail so that lessons can be learned.
Thank you Mr. de Crespigny for sharing your expertise in these fields! Many pilots need resilience in their daily lives today. They might face some "Post Traumatic Syndrome" as their financial situation might be affected, and their company might be bankrupt. All these factors will have an adverse effect on stress and family situations.
During the free time that many pilots suddenly have, it is wise to spend it in a constructive way, as new challenges are ahead of us. The life lesson from "FLY!" will serve everybody, as leaders and decision-makers, not only in a cockpit.
Want to know more about CEFA Aviation,
Visit our website  or email us:  info@cefa-aviation.com